Felony DWI | Charlotte DWI Attorney
While any DWI is serious, a felony DWI is a whole different level. In addition to the usual punishments, a felony DWI can send you to prison. So how do we defend these cases?
Felony DWI | When a DWI Causes Serious Injury or Death
Under usual circumstances, a DWI charge in North Carolina is a misdemeanor (see N.C.G.S. Section 138.1 (d). As a result, a conviction or plea involves fines, court costs, community service, and loss of license for one year. In addition, a DWI conviction results in a permanent criminal record. Rather, there is no expungement even years later. And given the public bias against DWI, we do not expect this issue to change. After all, no politician who wants to remain in office will pass a bill to help impaired drivers. However, if you cause an accident with serious injury or death, you face a felony DWI and prison time. Consequently, an accident on the way home changes everything.
Felony DWI: Death or Serious Injury by Vehicle
So how does this work? If you seriously injure or kill someone while driving impaired, you face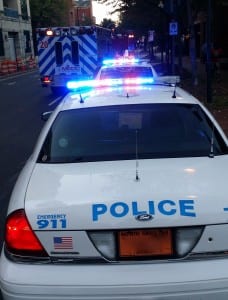 felony death or felony serious injury charges. However, any impairment, by alcohol or drugs, must be the proximate cause of the death or serious injury. Because of the nature of accidents, proximate cause is usually the primary defense in felony DWI cases. Furthermore, if previously convicted of impaired driving within seven (7) years, the new charge can become an aggravated felony. On the other hand, if involved in a fatal accident from a traffic violation, that is misdemeanor death by vehicle.
In addition to criminal penalties, a felony DWI also has civil penalties. For example, persons convicted face both active prison sentences as well as civil lawsuits by the victim(s) families. So how long can your sentence be? After considering various factors, judges use a sentencing chart. For misdemeanor death by vehicle, the maximum sentence is 150 days in jail. However, for felony death, you will serve between 38 and 160 months in prison. And if elevated to aggravated, your sentence goes up to 64 to 160 months.
As you can see, much more is at stake with a felony DWI. So do your research and then hire the best DWI lawyer who gives you the most confidence. After all, everything, including your freedom, is on the line here. Before you decide, compare our credentials. Then call to discuss how we will approach your case. Your defense starts now.