Charlotte DWI Attorney Robert J. Reeves inducted into the National Advocacy for DUI Defense LLC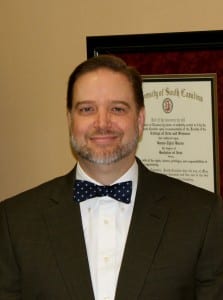 The National Advocacy for DUI Defense, LLC (NAFDD) is an organization founded to help those individuals charged with DUI or DWI find legal representation. The group is composed of attorneys from across the country who focus their criminal practice on DUI cases. The goal is to help member DWI attorneys to be identified and validated for their DUI knowledge, skill and experience. While some organizations acknowledge and present more general criminal defense practitioners, there are only a few peer-review institutions that distinguish DUI attorneys specifically. NAFDD was established in 2013 to identify accomplished DUI attorneys in the country and are listed by each state. NAFDD employs a review process and a team of researchers that screen thousands of candidates to determine whether they meet the eligibility requirements based on a qualitative assessment of objective criteria. The information used to determine who should be included in NAFDD is what they believe every defendant should know before hiring a DWI attorney.
It is often a daunting task to try to determine which DWI attorney is best for a particular client. Every case is different, and deciding which DWI lawyer to hire is a first critical decision. There are lots of choices here in Charlotte, and almost everyone "knows a lawyer" who they will claim is "the best." Here are the numbers. In 2013, there were 21,855 licensed attorneys in the state of North Carolina. NAFDD recognizes who they believe are the top 100 attorneys (less than 1% of all licensed attorneys). In South Carolina, there were 9,587 licensed attorneys in 2013. Given the smaller number of lawyers, NAFDD has invited to join who they believe are the top 50 attorneys. In the end, each client has to decide for themselves who they think is the "best fit" for them. Recognition by peers is great, but you have to find the right attorney that gives you the most confidence and also puts you at ease.
Charlotte DWI attorney Robert J. Reeves hopes you will consider his qualifications and credentials before making a decision. He encourages every potential client to do their own research and even to meet with several DWI lawyers before signing a retainer. This is a stressful time, and it can be difficult to make good choices immediately. Mr. Reeves would be honored to personally sit down and review your case. Even if you elect to go with another DWI attorney, he will give you some great information about the DWI process and what to expect. You can reach him directly at 704-351-7979 or email Robert@RJRlaw.com, even after hours or on the weekend. Call now for answers to your questions and get a better night's sleep tonight.