A Charlotte, NC car accident resulted in two deaths and eight serious injuries following a midnight crash in the queen city.  Authorities were called to the intersection of Eastway and Arnold Drives, where one person was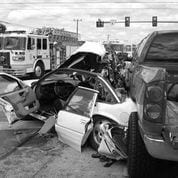 pronounced dead on the scene and nine other people were taken to the hospital, one of whom died shortly thereafter.
Police report that a 2005 Malibu, driven by a 20-year-old man was traveling southbound in the wrong lane when it struck a 2002 Honda Odyssey van.  The Malibu, then struck a Ford Explorer traveling the opposite direction, and it is further reported that four passengers were ejected in the crash.  Alcohol was said to not be a factor in this accident.
In North Carolina, there are many ways to show that another driver was negligent in causing an automobile accident.  One way is to show that another driver was negligent per se, meaning that the driver did not abide by the applicable motor vehicle statutes, laws, codes, and ordinances.  Driving on the wrong side of the road would be a good example of a driver exhibited negligence per se behavior.
Common examples of negligence per se include the following: Failure to yield, failure to keep vehicle under proper control, failure to reduce speed, failure to obey traffic signals, and driving on the wrong side of the road.
If you or a loved one has been injured in an accident of any kind, in North Carolina, contact the law office of Aaron Lee, PC for a confidential consultation.  You can contact our Charlotte, North Carolina office at 704-499-9000.