A 43-year-old Charlotte resident was driving while impaired on Interstate 85, when she flipped her vehicle causing a total of five injuries to her family members. She was at the Freedom Drive exit at the time of the incident, a little after 9:00 p.m.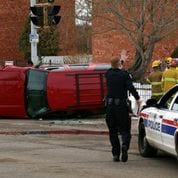 While the woman was operating her vehicle, she apparently swerved to avoid hitting another vehicle, and accidentally overturning her own car. Her 2-year-old grandchild's car seat was not properly fastened, and the seat was ejected from the car.
The passengers is the vehicle were the defendant's 23-year old pregnant daughter, and her two minor children. Everyone in the vehicle was immediately transported to Carolinas Medical Center Main, and hospitalized due to the severity of the accident.
Of the injured, one of the passengers was in critical condition, two of them suffered potentially life-threatening injuries, and the last two suffered non-life-threatening injuries. The defendant was incidentally one of the two people who only suffered non-life threatening injuries.
The defendant is thusly being charged with not only a DWI, but also child abuse and reckless endangerment.
An experienced DWI attorney can review your case to find the defense that will be most successful in your case. Contact one of our attorneys at Robert J. Reeves, P.C. directly by calling toll free 877-374-5999. We are here to help. Visit our main page here.