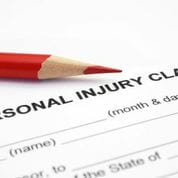 North  Carolina is one of only a few jurisdictions which still adheres to the strict  doctrine of "contributory negligence."   Pursuant to this doctrine, if a plaintiff sues a person under a theory of  negligence, the plaintiff will not be entitled to recover  if his injuries were caused by his own  negligence, even in the slightest. Moreover, a plaintiff's contributory negligent behavior will serve as a complete bar to recovery from any defendant who committed the act of ordinary negligence.
There are other jurisdictions that will allow for apportioning of fault and allow the plaintiff to recover perhaps only the percentage that they were not at fault (such as in a comparative negligence jurisdiction), however the doctrine of contributory negligence allows no apportioning of fault and thus, North Carolina allows no share of liability.
As seen in Newton v. New Hanover County Bd. of Education, "A  plaintiff is contributory negligent when he fails to exercise such care as an  ordinarily prudent person would exercise under the circumstances in order to  avoid injury."  Newton v. New Hanover  County Bd. of Educ., 342 N.C. 554, 564 (1996). The rule of thumb is simple: if the plaintiff is even 1% at fault in the state of North Carolina, then they are subject to the doctrine of contributory negligence. However, the doctrine will only apply where the plaintiff's contributory negligence was the cause of the accident.
So, for example, if the plaintiff was speeding and got into a motor vehicle accident; but it was not the speeding that caused the accident, then there is no bar on her claim for recovery because it was not her negligence that was the cause of the accident. Ellis v. Whitaker, 156 N.C. App. 192;,  576 S.E.2d 138 (2003).
There is a defense to contributory negligence commonly referred to as the "last clear chance doctrine." Pursuant to this doctrine, if the plaintiff was in a position of peril (or danger) and could not avoid the accident  following his initial act of negligence, and if the defendant had an  opportunity to avoid the accident, then the plaintiff may nevertheless make a  full recovery from the defendant, simply because the Defendant had a chance to avoid the accident, yet neglected to do so.
However, do not fear if you have been involved in a personal injury suit in North Carolina, and feel as though you may fall into this category. The rule has many applications but specifically, where there is evidence of contributory negligence, the issue will be submitted to the jury, who then will serve as the final fact-finder in making the winning decision.
If you or someone you know have been injured or killed in any type of accident, call the North Carolina personal injury attorneys of Robert J. Reeves, P.C, toll-free  at 877-374-5999, or use this form, for a free consultation with an attorney to help you evaluate your claim and to get the recovery you deserve.