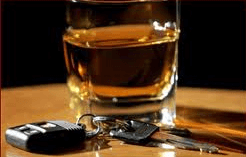 In North Carolina there are two types of DWI's that are felonies.  Felony death by motor vehicle, which a person is charged with if someone dies in an accident that was caused by a drunk driver.  Felony death by motor vehicle can also be charged as second degree murder.
The other felony is habitual DWI, which a person is charged with if it is their fourth DWI conviction within ten years.  So, a plea or verdict of guilty of habitual DWI requires a judge to sentence you to no less than one year in the Department of Corrections.
The sentence cannot be suspended and is the absolute minimum sentence.  However, many judges have been known to give a longer sentence than the minimum for habitual DWI.  Further, a conviction for habitual DWI means you can never have a license in North Carolina again.
Next, in North Carolina, after a conviction of misdemeanor DWI, the judge must hold a separate sentencing hearing and determine the appropriate level of punishment.  At this hearing, the judge determines if there are any grossly aggravating factors which include prior DWI convictions, driving while license revoked for DWI or alcohol related offenses, serious injury to another person, or driving with a child under the age of 16 years old in the car.
If you, or someone you know has been charged with a DWI in North Carolina, contact the law offices of Robert J. Reeves, P.C. toll-free at 877-374-5999 for a free consultation.