In the infamous case of State v. McKenzie, the court held, over a dissent, that the one-year disqualification of a defendant's commercial driver's license (CDL) based on the issuance of a civil license revocation for impaired driving is so punitive that it amounts to criminal punishment.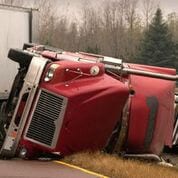 In the aformentioned case, McKenzie, a commercial truck driver, was arrested in 2010 for impaired driving in a non-commercial vehicle. At McKenzie's initial appearance, the magistrate issued a 30-day civil license revocation (CVR) based upon the results of McKenzie's breath test, which reported an alcohol concentration of 0.08 or higher.
However, because McKenzie had a commercial driver's license (CDL), the issuance of the CVR disqualified him from driving a commercial motor vehicle under G.S. 20-17.4(7) for one year.  McKenzie lost his job as a truck driver, but he worked for a while as a logger for the same employer only to be fired when his employer became overstaffed.
McKenzie then  moved to dismiss his DWI charges, alleging due process, double jeopardy and equal protection violations. The district court dismissed the charges, but the superior court reversed and reinstated the charges. The defendant appealed to the court of appeals, arguing that the superior court erred because his DWI prosecution constituted double jeopardy.
The North Carolina court of appeals held that revocation under G.S. 20-17.4(a)(7) amounted to criminal punishment, employing a seven-factor analysis used in Hudson v. United States, for determining whether a sanction that the legislature has characterized as civil nevertheless amounts to criminal punishment. Hudson v. United States, 522 U.S. 93 (1997) The court of appeals focused on the remedial purpose the statute was intended to serve and concluded that a one year commercial driver's license suspension could only be viewed as serving a punitive purpose; thus, the one year suspension penalty for violating G.S. 20-17.4(a)(7) really amounted to a criminal penalty instead of a civil penalty, which subsequently barred prosecution for DWI based on the Double Jeopardy Clause of the Fifth Amendment to the United States Constitution. Id.
If you or someone you know has DWI charges being brought against them, contact the law offices of Robert J. Reeves, P.C. to consult with one of our criminal attorneys.  We also handle many other different types of criminal cases. Contact us at 704-499-9000 or 877-374-5999 toll-free or visit our main site at www.rjrlaw.com