Holiday DWI Checkpoints and Arrests
Thanksgiving. Christmas. New Years. The three best holidays and all back to back. Essentially, we celebrate for the last six weeks of the year. We have school parties, family get togethers, and office events, not to mention friends who want to see each other. There will be lots of drinking opportunities, from kegs to eggnog and rum, as there are every year. And, of course, there will be more people on the road traveling to see family. More people on the road means more individuals at risk. To be sure, the police will also be out in force with more checkpoints and increased overall monitoring for impaired drivers. Every year, there are predictions and projections of higher DWI arrests. The projections are almost never wrong. Consequently, police will be more active and aggressive in stopping anyone they think is impaired or unsafe. This year will be no different. So how do you protect yourself during the holiday season? The answer is quite simple. Choose one person to be the true "designated driver" who cannot have any alcohol at all. That's right. No alcohol at all. The old strategy of being the person who had the "least amount to drink" is no longer sufficient, if it ever was. Handing your car keys to your spouse is also not enough. In fact, allowing someone you know, or should know, is impaired to drive your vehicle can actually result in two separate charges. The driver will be arrested for DWI, but the passenger can also be charged with "aiding and abetting DWI." Everyone wants the same thing here. We want people to have fun, visit with family, and celebrate the season. But we also want you and your family to get back home safe and sound. We also want you to avoid getting a DWI this season. Our firm wishes you and your family an awesome holiday, a merry Christmas, and a happy new year.
More People on the Road Means More Police and More Risks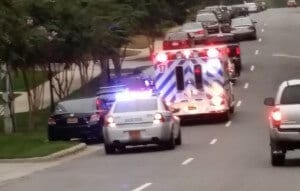 A "regular" NC DWI is a misdemeanor. Conviction or plea will result in court costs and fines, community service, alcohol assessment and recommended treatment, and loss of license or driving privileges for one year, and in extreme cases, possible time in jail. Of course, in most cases, you can get a limited driving privilege (LDP). However, with more folks on the road, there is more potential for accidents which can result in serious injury and/or death. And that additional circumstance will change the potential outcome completely. Now, you are going to be charged with a felony and can face years in a North Carolina prison, not a local jail. Felony DWI cases are obviously the most serious and require skilled, experienced DWI defense counsel. Additionally, any holiday DWI which results in any injury, even minor, will almost certainly result in a civil lawsuit against you. And, if you are driving without a valid driver's license, your insurance company may decide to "reserve rights" under the policy and determine that you do not have coverage. As you can see, there are so many reasons to let someone else drive who has not celebrated with the rest of the group.
More Accidents. More DWI Checkpoints. More Holiday DWI Arrests.
Every year, there seems to be more work to do with fewer people. It is the same with police departments. The sheer number of calls to 911 means police officers are going to be working harder and for longer hours. Consequently, there is more potential for mistakes to be made in arrest procedures and breath testing protocol. As a result, many holiday DWI arrests are quite defensible, and cases can be defeated. Remember, each player in the court process has a role. The job of the prosecutor, or District Attorney, is to prosecute. The judge is elected to be fair and see that justice is done by applying DWI law to the facts, even if that means someone is acquitted or DWI charges have to be dismissed. DWI defense lawyers are advocates for out clients. We are not here to judge you, and even if we believe you may be guilty of the crime charged, it is our duty and role to hold the State of North Carolina accountable to proving each element "beyond a reasonable doubt." Another issue we see in many holiday DWI arrests is a failure to take defendants for blood testing after refusing to submit to the breathalyzer. Without a "blood alcohol concentration (BAC)" level, the State is at a tremendous disadvantage. No BAC means the government now has to prove a defendant was "materially and appreciably impaired" at the time of stop and arrest. Juries like numbers and readouts. Expected testimony by officers of "red, glassy (watery) eyes, slurred speech, unsteady on their feet, and failed field sobriety tests (difficult to perform under the best of circumstances)" may not be enough or convincing. The end result? You are found "not guilty" and win your case.
Charlotte DWI LawyerAaron Lee
During the holiday season, Mr. Lee appreciates the increased need for DWI advice and guidance. One of the most difficult tasks seemingly is to be able to actually speak with a lawyer. Too many firms rely on answering services or their paralegals to try to answer questions. Mr. Lee has always made it a priority to be available to his clients and potential clients. He places his mobile phone number and direct email address on his business card and on the firm's website. And, when you call or email, Mr. Lee will usually answer or respond promptly. He returns all calls and emails the same day as he knows you will sleep better after getting answers to your questions. It is also a better business practice that separates him from other attorneys who are not as easily accessible when needed. While Mr. Lee is in court, he can email while waiting for his cases to be called. After hours and even weekends are best for more detailed discussions. And, of course, for matters that need personal attention, an in-office meeting is always an option for you.
As the holidays approach each year, we all look forward to a little rest and relaxation. We have worked hard and now want some time to reflect and think about the goals for the upcoming year. Don't risk ruining your well deserved break with a holiday DWI arrest. We want you to enjoy the season and celebrate the season. But, be careful and prudent. Do not take unnecessary chances. Get back to your family safely.