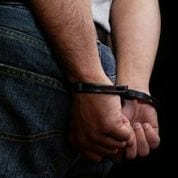 The United States Constitution pursuant to the Fifth Amendment protects individuals from self-incrimination and thus law enforcement officers are required to give Miranda warnings when an individual is in police custody and subject to interrogation. Miranda v. Arizona, 384 U.S. 486 (1966). Custody for the purpose of triggering Miranda includes "custodial interrogation" which the Supreme Court has defined as "questioning initiated by law enforcement officers after a person has been taken into custody or otherwise deprived of his freedom of action in any significant way."  Id. at 444. This includes either an arrest or  "a restraint on freedom of movement associated with formal arrest" which is decided by objectively evaluating the totality of the circumstances. State v. Buchanan, 353 N.C. 332 (2001).  Circumstances which tend to objectively show that someone is in custody includes a police officer standing guard a door, a locked door or being in handcuffs. Id. at 399.  Interrogation for the purpose of Miranda may be "express questioning" or its functional equivalent. Rhode Island v. Innis, 446 U.S. 291 (1980). This includes words or conduct that is "reasonably likely to elicit an incrimination response." Id.
In Buchanan, the North Carolina Supreme Court found that the Defendant was subject to custodial interrogation because despite the fact the Defendant was not placed in handcuffs, was told he was not under arrest because officers would not have allowed the Defendant to leave. Buchanan, 353 N.C. at 342. The Defendant in that case was taken to the police station by a detective for questioning and despite the fact that the detective told the Defendant he was not under arrest and free to leave, the Defendant could still be considered to be subject to custodial interrogation because when evaluating the situation under the totality of the circumstances the Defendant's movement was restrained in such a manner that it could be the equivalent of formal arrest. Id.
In short, just because an officer tells someone they are not under arrest that does not mean that an officer is not required to give Miranda warnings. As long as someone is subject to custodial interrogation the police are required to give Miranda warnings before asking questions.
If you should find yourself in a situation where you have been charged with a DWI you need to contact an attorney who has the experience and knowledge necessary to handle your case with the care it deserves. We defend DWIs and DUIs in Charlotte, Mecklenburg County, Pineville, Cornelius, Huntersville, Lake Norman, Pineville, Matthews, Mint Hill, and UNCC. For a private, confidential consultation with one of our experienced DWI lawyers, please call 704-499-9000 or toll-free 877-374-5999 even on weekends or holidays. Visit our main page here.