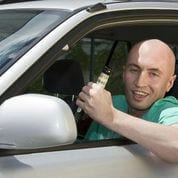 When someone is arrested for DWI he or she is usually taken to the police station to submit to a breath test. The breath test that is administered at the police station is the test that is required to be taken under the implied consent law in North Carolina.  During the process an officer will generally have the arrested person blow into the machine at least twice, sometimes more if the officer is unable to get a reading. The question that often comes up about this procedure is if the results of all the samples are admissible at trial?
In North Carolina the results of multiple breath test can be used as long as the results do not differ from each other more than 0.02. This is laid out in North Carolina General Statute 20-139.1(b3)(3) (2005).  The breath sample that registers the lowest BAC is the result that will be used for the DWI prosecution. For example, if someone blows twice into the breath machine and the first time his BAC is a 0.10 then the second time his BAC is a 0.08, then the 0.08 result will be used. The result can be used because the difference between the 0.10 and 0.08 is not greater than 0.02, and only the lowest result may be used.
Our attorneys have experience and knowledge of DWI law in North Carolina and will work tirelessly to defend your case.  Contact one of our attorneys directly by calling 704-499-9000 or toll
free 877-374-5999. You will be glad you did. Don't worry. We are here to help. Visit our main page here.