A Charlotte, North Carolina woman, who was injured last Monday in a north Charlotte wreck, has died of the injuries she sustained. Police report that the accident occurred when the woman was driving her 1994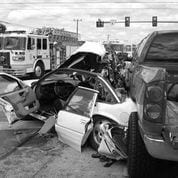 Acura northbound on North Tryon Street near the intersection of 484.
The Acura, driven by the 22-year-old, slid across the median and into the southbound lanes, where she was struck by a 2000 Chevy Blazer driven by a 42-year-old woman.  Police further report that they have a "person of interest" in the case who they plan to interrogate.   The facts pertaining to what caused the accident to occur are still under investigation.
Negligence is the failure of one party to exercise reasonable care, judged by an objective standard.  In North Carolina, a person injured by the negligence of another, is entitled to recover damages from the negligent party.  The primary defense in North Carolina is the doctrine of contributory negligence. Here, even if the defendant negligently injured the plaintiff, the plaintiff WILL NOT recover any damages if she was at all negligent in causing her injuries.
The exceptions to this doctrine is the "last clear chance doctrine," the "rescuer doctrine," and claims for "willful and wanton" conduct, and the contributory negligence of minors.  However, it is always important for the plaintiff to prove that the defendant was the "cause" of the plaintiff's losses.
If you or a loved one has been injured or killed in a car accident, or any other accident, contact the law offices of Reeves, Aiken & Hightower, LLP for a confidential consultation.  You can reach our Charlotte, North Carolina office at 704-499-9000.