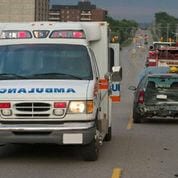 Tuesday morning, around 3:30 a.m, was a traffic filled one for travellers of Interstate 77 in the Charlotte greater area where a tractor-trailer struck a guard rail causing a severe crash. The impact of the vehicle against the guard rail caused the truck to catch aflame.
The tractor-trailer accident occurred near Mooresville, between Exit 33 and Exit 36, and had all lanes shut down until close to 1:00 p.m. that afternoon. Luckily, no one involved in the tractor-trailer car accident was injured.
A detour has since been posted for travellers near the Mooresville area.
Our seasoned trial lawyers are able to help those individual injured in South Carolina and North Carolina. With over 75 years combined legal experience, former insurance defense backgrounds, and a former Registered Nurse (RN), our team is standing by to help get you and your family through this difficult time. Being involved in a tractor-trailer accident can be very serious business. Even more serious is the laws of North Carolina.
Under the Contributory Negligence Theory that North Carolina has adopted, if you are even .1% negligent in the accident, you are not permitted to recover anything for your personal injuries. This means you need to contact an attorney who knows the law, and who knows how to determine if you in fact were negligent at all in the accident you were involved in.
If you or a loved one have been involved in a tractor trailer accident during bad weather or road conditions, contact the experienced commercial truck accident attorneys of Robert J. Reeves, P.C. toll free at 877-374-5999.
For more information, please visit our website at www.rjrlaw.com. Compare our attorneys' credentials. Then, call us for a private consultation about your particular situation.