If arrested and charged with a Pineville DWI, your case is handled in Mecklenburg County. Because NC DUI laws are very complex, you need our experience in handling DWI cases. We explain below.
Pineville DWI Criminal Defense Attorneys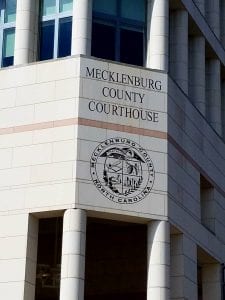 While many law firms advertise for DUI, few lawyers focus their practice on defending DWI cases. However, we do. Charlotte DWI attorney Aaron Lee has extensive trial experience in both criminal and civil courts. Because he knows the tremendous advantage the State has, Mr. Lee fights hard for his clients. During the investigation phase of DWI defense, he leaves nothing to chance and reviews every aspect of your case. In addition to police reports, Mr. Lee also evaluates how you appear on police video. After all, juries make their decision on guilt or innocence based largely on what they see and hear in video.
So What Does the State Have to Prove
Because the State of North Carolina has the entire burden of proof, they must show three things. First, they must prove you were driving. While this is usually easy, it is not always. For example, in some accident cases, the driver is out of the car when the police arrive. Here, there may be a question of whether the State can prove this element of their case. Next, the prosecution must prove you were on a public roadway. Again, this is usually easy, but every case is different. And finally, the State must show you "impairment". Either they prove you guilty by a blood alcohol concentration (BAC) number, such as 0.08. Or, they must show "appreciable impairment" while driving. As you would expect, the most contested part of DUI defense is this last element.

So Why Hire Our Firm
Because we appreciate how serious a Pineville DWI charge is, we work relentlessly to hold the State accountable. Since a DUI conviction is a permanent criminal record, we leave nothing to chance. Rather, we carefully evaluate all evidence and then develop an individual defense strategy specifically for your case. And once we have considered every aspect, we sit down with you to personally go over your options. While we make recommendations, you remain in charge and make all important decisions. After all, we work for you, not the other way around.
Personally Available to Clients
While we believe our experience and credentials are important, we know being available is also key. Rather than having you go through our office, you can call or email our lawyers directly. So every client has our mobile phone number and direct email address. Because we are not a "mill" law firm, we can make ourselves personally available to you when you need us. As a result of our commitment to your case, we make you this promise and personal pledge.