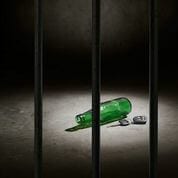 If you are convicted of a DWI in North Carolina it is possible the judge may issue a probationary sentence.  The question usually arises as to what exactly a probationary sentence entails.  This can get a little complicated and is going to vary depending on what level DWI you are convicted of.  The more serious the offense the more likely it is you will have to serve at least some jail time and be subject to continuous alcohol monitoring. Courts have a lot of discretion when it comes to determining probationary sentences but the conditions that may be set out generally stay the same.
Continuous alcohol monitoring (CAM) is a condition that is required to be used for those who receive probation after being convicted of an Aggravated Level One DWI and may also be used for those convicted of a Level One or Level Two DWI.  The CAM system monitors the defendant to detect any alcohol consumption.  If any alcohol is consumed than this condition of probation has been violated.   The court however should not impose this condition if it is found that the defendant cannot afford the cost of the CAM system, unless it is determined that the local government entity who is responsible for the defendant's incarceration should pay the cost of the system.
Substance abuse assessment is also imposed as a condition to any level DWI offense.  This assessment requires the defendant to go to an approved facility as determined by the Department of Health and Human Services to receive an assessment and treatment.  Usually the defendant will meet face-to-face with someone at the clinic first to receive an initial assessment.  Once this is completed a course of treatment will be recommended which must be completed in order to satisfy this condition of probation.
Whether probation will be supervised or unsupervised will depend on what level DWI the defendant is convicted of.   In North Carolina someone who is convicted of a Level Three through Level Five DWI, has no previous DWI conviction within seven years of the current conviction, and has completed the substance abuse assessment and treatment must receive unsupervised probation.   The judge does however have some discretion to make the probation supervised in this scenario if he finds other issues in the defendant's in record which suggest supervised probation is necessary.   Even if someone is placed on supervised probation the judge may decide later to make it unsupervised once the defendant has paid his or her fines and completed community service.
If you should find yourself in a situation where you have been charged with a DWI you need to contact an attorney who has the experience and knowledge necessary to handle your case with the care it deserves. We defend DWIs and DUIs in Charlotte, Mecklenburg County, Pineville, Cornelius, Huntersville, Lake Norman, Pineville, Matthews, Mint Hill, and UNCC. For a private, confidential consultation with one of our experienced DWI lawyers, please call 704-499-9000 or toll-free 877-374-5999 even on weekends or holidays.