First Court Date in Mecklenburg County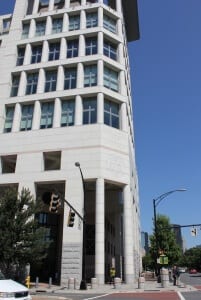 If you have a DWI case pending in the Mecklenburg County Courthouse, your first court date is very important. Traditionally, all DWI cases, except felony charges, start in Courtroom 1130. However, if you have an attorney, you do not need to appear. Rather, your Charlotte DUI attorney appears for you. However, if you do not hire a lawyer, you do have to go to court. Once there, you will plead guilty or not guilty and decide if you want a lawyer.
With respect to representation, you have three options. Either you can (1) request an appointed lawyer, (2) hire a private attorney, or (3) represent yourself. However, even if you ask for an appointed attorney, you may not receive one. Rather, a judge will review your financial situation to determine if you qualify for an appointed lawyer. Furthermore, we do not recommend you try to represent yourself. Because NC DWI laws are so complex, it is critical that you retain experienced, professional counsel.
District Court Dates
After the first court date, your next court dates are on the District Court floor. Here, you have to appear whether you have a lawyer or not. However, if represented, your DWI lawyer goes to work and learns about your arrest. First, the attorney discusses the facts of your case with the arresting officer. In addition, we review all notes and confirm any video evidence. And finally, we get a new court date to come back. Consequently, there are usually several court dates as your case processes through the system. In most situations, it takes about 6-9 months to resolve a DWI case in District Court. Either by dismissal, trial, or guilty plea, you decide how you want to proceed. The decision is always yours as the client. Of course.
Lastly, if the officer is not present, the State will ask the judge for a continuance. Rather than object, your DWI lawyer will note the file because judges almost always grant these motions. However, if an officer is absent several times, a judge may dismiss your charges on our motion. In the end, everything depends on your individual case circumstances and the particular judge. This is where your DWI attorney's experience can really make a difference. Hope this information helps for now.